alright y'all-
we've been meaning to start doing this for awhile. the buried treasure segment of the blog where we find a spanking ridiculous record to bring to your attention. i might get blasted for this but for our first selection, I have chosen a record I found at my job today...perhaps the most incredible album of the past two decades (or maybe not)...
ladies and gents...behold...The Surf M.C.'s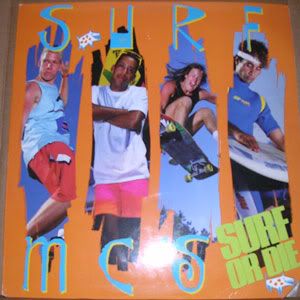 they apparenty came out in 1987 on profile (run-dmc's label) and oh my god this ish is ridiculous. total run-dmc/beastie knock off with blaring guitar riffs, classic drum machines and some of the cheesiest surfin'-inspred raps you have ever heard.
here's the first verse on the album, from the title track "surf or die"...
We were born in the year of our lord
With nothing on our backs but our funky surf boards
Miles at sea - that's where you'll find us
Hundred foot waves, not far behind us
Sharks on my right, sharks on my left
One false move, we knew it was death
Thats when we heard a terrifying cry
"Hug wood, homeboy - you better surf or die!"
woah...hold up hold up hold up...did they just say that..."Hug Wood, Homeboy"?!!!!
cam'ron wold have a heyday ripping apart a bromo line like that
anyways, you must hear this album...i can't find anyplace hosting tracks from it yet...but i'll try to put it up an mp3 later this week...
til then, "Hug wood, homeboy (PAUSE)- you better surf or die!"